Top 10 Japanese Car Brands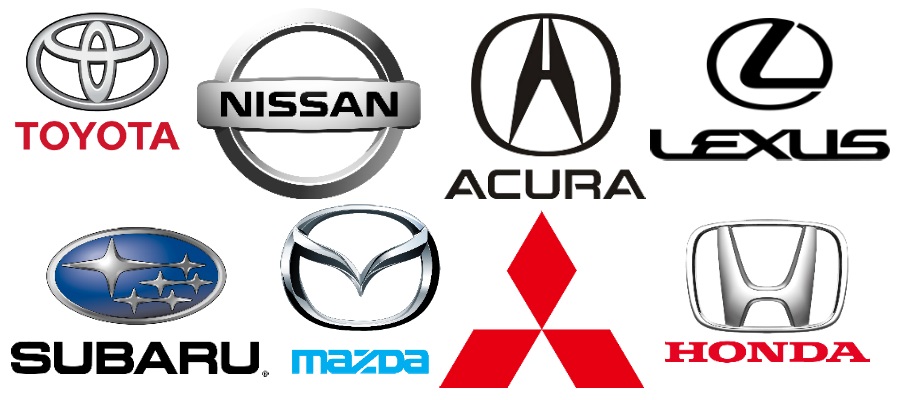 Japan is the leading Car Manufacturing Country in the world and produces the most reliable and durable long-lasting cars with unique luxury style, modern urban cutting edge design, and dynamic sporty performance. Japanese cars are always better known for their versatility, affordability, and rising demand popularity among customers all over the globe.
Following are the Top 10 Listed Japanese Car Brands: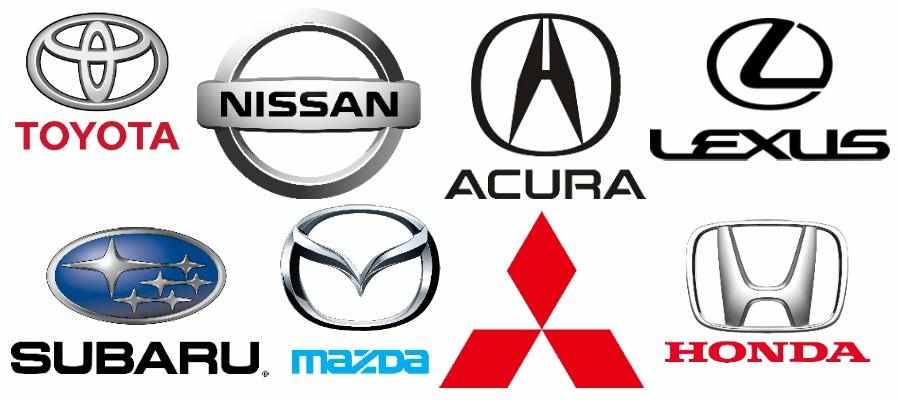 TOYOTA
Toyota is the most renowned and recognized Japanese brand holding a stable and sustainable first position in the top-ranked Japanese vehicle brands. This leading brand possesses an increased demand and value among all ages of customers with a global reach at every nook and corner of the world. It has the oldest long history of producing and delivering the finest quality cars to the public by tremendously keeping up pace with the latest technological transformations for providing unique innovation and perfection. It offers all different varieties of eco- friendly and family-friendly vehicles for customers such as executive sedans, off-road SUV's, small Kei hatchbacks, and spacious family wagons.
Apart from introducing traditional car models, Toyota also holds a smart thinking vision of bringing a true revolution in the Japanese automotive industry by presenting unconventional and distinctive smart concept futuristic design cars. Toyota Corolla Axio, Camry, Land Cruiser, Vitz Yaris, Prius, Premio, and Auris are the bestselling newly Toyota Hybrid Car models that have proven their sheer recognition among customers worldwide.
NISSAN
Nissan comes with a slogan of "innovation that excites" which means it keeps its core dedicated focus on designing modern innovative cars for the exciting fun driving customer journey experience. This well-known Japanese car brand is absolutely famous for introducing sophisticated and super high-performance cars for the public and has yet produced all kinds of passenger vehicles by carefully keeping in mind the essential factors of comforts, stylishness, and luxuriousness.
It proudly presented the first high-tech battery electric vehicle known as Nissan Altra EV for keeping up with modern technological automotive advancements at the Los Angeles International Auto Show on the 29th December 1997. The introduction of the Nissan Leaf an all-electric vehicle is the biggest success for the company to be the pioneer of producing the fully electric vehicle for the first time in Japanese automotive history.
Some other record sales hybrid electric vehicles are Nissan e-NV 200, Hyper Mini, and the Nissan March e-power. Nissan has also some surprising and interesting plans to launch completely driver-less autonomous futuristic cars on the roads by the year 2020.
Nissan Cima, Bluebird Sylphy, GTR, Juke, Teana, and X-Trail Hybrid are the popularly branded Nissan Cars.
HONDA
Honda is a Japanese car brand synonymous with style and innovation, as it always transforms a sleeping dream into waking up reality by bringing out modern and urban uniquely designed trendy cars for customers. Honda Cars provide stunning mid-sized youthful appeal vehicles for customers to cater to the younger audience. As to foresee the future, it is stepping ahead with an enlightened vision of presenting alternative fuel, hybrid electric, and plug-in electric cars for customers. The Accord, Odyssey, Fit, CRV, Vezel and CR-Z are world-renowned brand cars famous for their irresistible noticeable appeal and dynamic speedy performance.
MITSUBISHI
Mitsubishi is a top-ranked Japanese car brand that holds global recognition for its long-running Pajero and Outlander Sports Utility Vehicles. It has given the true definition of crossover SUV by producing the fiercely designed solid built rugged vehicles proving their acclaimed credibility and durability since decades. It has also embraced the latest technological era and embarked on its success for the plug-in hybrid EV System and Mitsubishi innovative electric small Kei technology vehicle. The Lancer Evolution, RVR, and the Colt are the recently popular brand cars.
MAZDA
Mazda is an internationally recognized vehicle manufacturing brand that defines its true meaning of wisdom. It uses the same wisdom and intelligence in designing superb and terrific cars for customers and produces 1.3 million cars on a global scale. This trendy and innovative brand provides a bit of bolder and seductively sensational creative attraction for instantly grabbing keen noticeable customer attention. The Zoom Zoom and Sky Activ Technology are the most vital elements which induce customers for a quick purchase decision for the Demio, CX-3, CX-5, Premacy, Roadster, and the Mazda MPV.
SUBARU
Subaru is the world-leading Japanese automaker brand that defines its slogan of confidence in motion. This creative tagline provides sheer reliability and durability of an inside deep powerful performance with a Subaru EE Boxer flat engine design layout structure and a well-balanced full-time four-wheel-drive technology. It is also combined with active torque split all-wheel drive and the Multi-Mode Driver Control Centre Differential AWD System for the fast and speedy driving journey experience.
SUZUKI
Suzuki is the best-selling Japanese automobile brand famous for producing mid-sized light-weight, affordable, and family-friendly convenient cars for customers. Suzuki Cars are much demanded their appealing urban youthful design with space and comfort for passengers as it offers a wide range of vehicles for all categories of small and large-sized families. The Swift, Alto, Ignis, Lapin, Wagon R, and Baleno are the most popular vehicles with increased sales worldwide.
DAIHATSU
Daihatsu is a well-known Japanese domestic brand with wide global recognition that produces small compact trendy Kei hatchbacks cars and mini wagons with having a powerful appeal and demand among customers all over the world. It provides all different varieties of light passenger, passenger, commercial, hybrid electric, and alternative fuel vehicles. The Daihatsu Mira, Move, Tanto, Mebius, and Copen are top-selling brand vehicles that offer a playful and super exciting urban pleasurable driving journey experience for everyone.
LEXUS
Lexus is an elite class premium Japanese brand much popular among customers spread all over the world due to its sheer elegance, dynamic performance, and captivating design. It comes with all different varieties of sedan, coupe, convertible, and SUV, and the LX 570, IS 250, and CT200H are the top-selling brand models.
ACURA
Acura is a luxurious Japanese car brand introduced by Honda and it produces all kinds of super speed sedans and crossover sports utility vehicles for customers with some of the finest brand models such as ILX, TLX, RLX, RDX, MDX, and the NSX.
Top 10 Japanese car brands with having the versatile and distinctive appealing design features as well as highly efficient brilliant performance for catching the keen eye attention of customers and making them compelled to have an enjoyable fun driving journey experience.
These Japanese Car Brands have had a long-lasting trustworthy relationship with customers for years and are strongly committed to delivering the best quality performance and sheer efficiency for more years to come ahead. The customers of today now prefer Japanese brand cars over American and German brands due to their affordable prices and state of the art features. Japanese automotive industry captures the largest market share of consumers from all over the world with ever-increasing sales value as they better understand the customer choice and produce cars according to the exact demand specification.