Nissan X-Trail – Compact Crossover SUV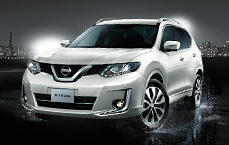 Nissan world's third largest Japanese automobile manufacturer holds a very good reputation for its compact crossovers. In the year 2000 Nissan Company introduced its compact crossover SUV i.e. Sports Utility Van which was really appreciated in the market for its marvellous design. It was presented by the name of Nissan X-trail.
Through the evolution of three generations, Nissan X-trail gained the length so it is now counted as mid-size SUV rather than compact SUV.
It has 4 doors and a seating capacity of 5 people along with ample cargo space. It has transverse front-engine and it is available in both front and four-wheel. Its predecessor is Nissan Rasheen and its successor is Nissan Rouge.
Its first generation remained in the market till 2007. Nissan launched its second generation in the year 2007 it was mounted on Nissan C-Platform. Nissan X-trial is related to Nissan Sentra, Renault Koleos and Nissan Qashqai. Its second generation had 6-speed manual and 6-speed automatic CVT transmission.
Its third generation was presented in the market in the year which had a unique platform jointly-developed Nissan and Renault Common Module Family (CMF) platform. Its third generation is still prevailing in the market and is selling great.
If you are interested in buying Nissan X-trail so you can also avail an economical option of used Nissan X-trail. Buying a brand new car could be an expensive option and everyone can't afford a brand new Nissan X-trail but buying a used car could be easier.
Car Junction is one of the oldest and most reliable sources of buying used cars and machinery. Our online facilitation staff is highly trained and professional dedicate to assist you in the process of choosing a car for you in your budget.
Car Junction has great word of mouth for its reliability all around the globe as we are serving this industry since two decades with great dedication.
VIEW ALL STOCK OF NISSAN X-TRAIL