Mitsubishi Rosa Bus 25 to 33 Seaters
"Mitsubishi Rosa bus" which has now evolved through four generations; was officially marketed by Mitsubishi in 1960. It is a minibus, meant to carry 25 to 33 passengers from one destination to another. Due to its flawless, remarkable design and comfortable accommodation for passengers, it could be distinguished from similar vehicles available in the market. It is competing with Isuzu Journey, Nissan Civilian, and Toyota Coaster but since a decade it's on the top of the sales chart of minibuses.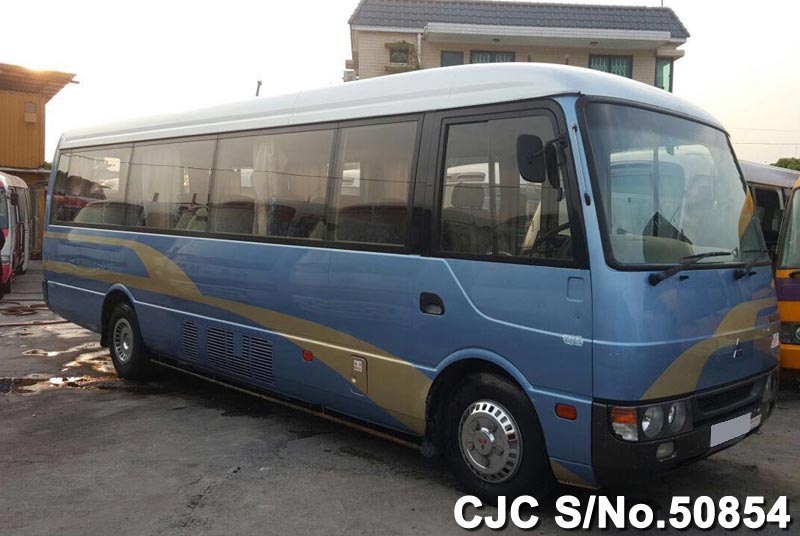 The main reason for its success is that it is a reliable and good value for money. It is one of the best for its "cost per seat bus". There are many features which are unique about "Mitsubishi Rosa bus" but despite all the outstanding features and excellent performance the vehicle is offered at a reasonable price for current and potential customers, it adds worth.
Mitsubishi Rosa is available with standardized and optional equipment customized and personalized to the need of its valued customers. The standard features are present in all the vehicle models to satisfy buyers whereas the optional features are meant for customization preferred by certain customers around the globe.
According to a review report:
"The major specifications include three points seat belt, power steering, clutch booster, heat absorbing glass, warning alert buzzer, brake system, independent front suspension, spare tires, glove box, and windshield shade band, fuel tank lock, under view mirror, front disc brakes and complete entertainment package. The optional equipment list includes the 2 by 2 seating arrangement, rear seat fold down option, passenger seat belts, luggage accommodating rack, ashtray, ceiling grab rail, protection bars, engine protection from dust and digital clock."
According to Mitsubishi:
"A stylish, aerodynamic exterior contributes to vehicle stability and a reduction in fuel consumption.
The low, wide passenger door is positioned forward for ease of entry and exit.
A bright, spacious passenger cabin provides a sense of luxury. "
"Used Mitsubishi Rosa Busses for sale" are also considered by few buyers when it comes about saving cost. Used "Mitsubishi Rosa Busses for sale" are available all around the globe and are preferred by many people.
Not only Rosa but other "Japanese Used Buses" are also purchased.
Car Junction one of the most reliable and oldest used car dealers also provides "Used Japanese Busses". If you are interested to buy miraculous Rosa or any other Japanese used bus so you can visit our website to check stock. Our online customer sports representatives are available 24/7 to provide you the required information.
VIEW ALL MITSUBISHI ROSA BUSES