Japanese Auto Auction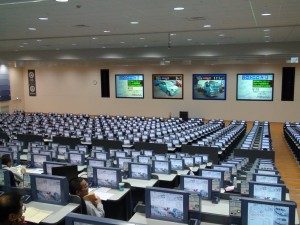 Japanese automobile auctions (the world largest auctions) are the main source of supplying used Japanese vehicles to the entire world. Almost all Japanese brands like Toyota, Honda, Nissan, Daihatsu and others have their used vehicles traded in these auctions on a daily basis. Dealers and used car export companies of Japan and other countries are registered with these auctions and these companies daily participate in the auction through the net (online) or physically to place bid on hundreds of cars/vehicles and after winning bid they export them to desired destinations to their clientele and earn a profit.
There is a very simple process of becoming a member of these auctions, you have to register your company as a car exporter or dealer secondly you have to complete the registration procedure with these auctions by filling their forms and paying their fee. This process is lengthy and involves several guarantees and other legal procedures.
According to the policy only Japanese dealers i.e. dealers registered in Japan can officially attend these auctions and can place a bid but these dealers take other public into the auction and buy on their behalf also, it is contrary to policy.
How do these auctions work?
Mechanism:
Public place/ a real or virtual market place where things are sold to the highest payers. Things/Objects are presented at auction and different people place bid on it and the person with the highest bid wins it. Auction fee is charged which may be paid by either of parties the one who is selling or the one who is buying it.
Car auction Vs Conventional auction:
These auctions work the very same way as conventional auctions work. But only registered participants can place a bid. There are many potential buyers of one car in these Japanese car auctions. The seller sets the lowest price on which he is ready to sell the vehicle and then bidders start placing their bids and the highest bidder is entitled to get the car.
How online bidding does works:
It is very simple you raise the price by clicking on the button. One push has a fixed amount of raise every time which is settled by auction. It could be any amount may be 500 yen or 1000 or maybe more.
What is the auction sheet:
Every bidder can see auction sheet before bidding for any car. Auction sheet shows the complete condition of the car. All dents and scratches are marked on it. Condition of windscreen, mirrors and all components of interior and exterior of the car is depicted through it. It also tells about mileage etc. Auction sheet helps buyers to decide how much they could rise while bidding. Buyers can access these auction sheets online easily.
There are several auctions working in Japan like USS auction, TAA auction, Aucnet auction, ARAI auction, JAA auction, BCN auction and many others. Individuals can seek the help of auction registered companies for buying their desired car from the auction. Auction brings you a large choice to choose from.