Ford Ranger 4×4 Off-Road Pickup Truck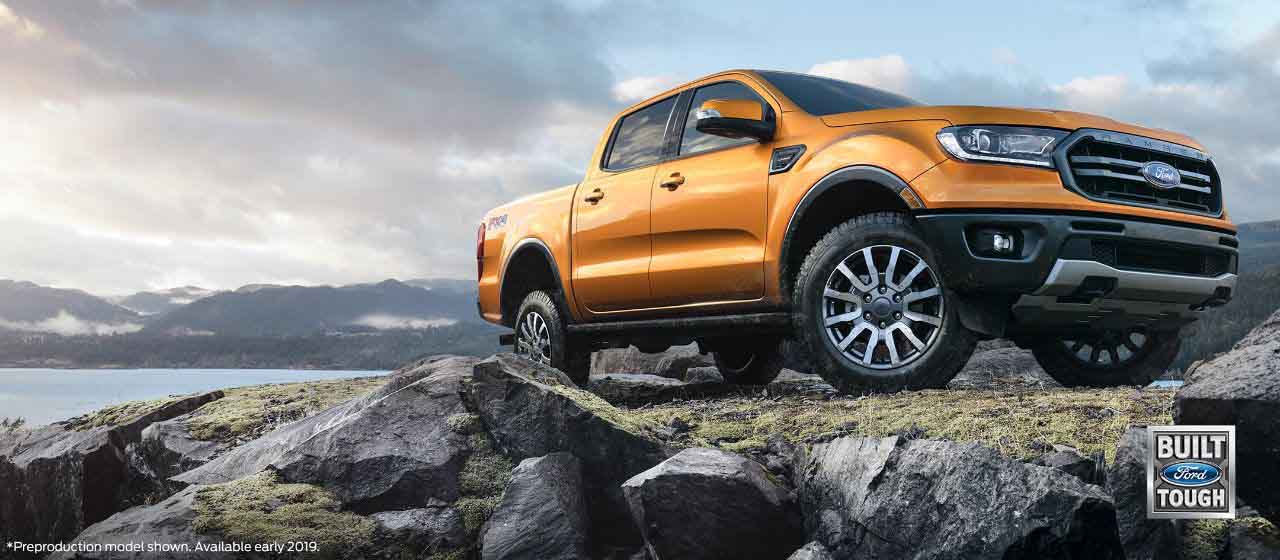 Ford Ranger has always been a widely popular compact pickup truck for all ages of customers around the world. It is a highly appreciated small sized pickup with a robust design and dynamic performance. For the sheer quest of striving better with a new era of innovation, Ford has now emerged into a mid-sized larger pickup truck segment introduced as a 4th generation in January 2018 at the North American International Auto Show in Detroit. This ultimate range of pickup offers a super striking eye-catching appeal for everyone to get an instant noticeable keen attention from customers at a very first glance.
New Ford Ranger is a tough built pickup truck based on a T6 Platform with global mid-sized truck chassis architecture. It is a trendy urban 4×4 off-road pickup truck designed for seeking outdoor recreation adventure perfect choice for young generation customers.
Exterior Design provides a sleek shine stunning look for customers built with a rugged muscular aerodynamic body structure comprising of bigger rectangular shaped LED front headlights, chrome metallic horizontal bar emblem grille, under spoiler front fog lights, front bumper, power side mirror with LED turn signal indicator light, and alloy wheels. On the rear side, it provides a bold stylish display glance with a high mount stop light, vertically fitted LED Taillights, rear radio antenna, and rear bumper. The refreshing body colors add a new magnetic appeal for customers such as saber, lightning blue, hot pepper red, absolute black, magnetic grey, and ingot silver. Interior Design offers a true sense of luxury and comfort with 2-door single cab, 4-door extended and double cabin seating design accommodation. It features a front-engine, rear-wheel drive with an optional choice of 4-wheel drive layout design structure. The front side dashboard cockpit panel offers a distinctive appeal for passengers with the latest features including advanced WIFI Hotspot Connectivity to help easily get connected while on the move. The rear side opens flat cargo bed provides widely spacious payload storage with a powerful towing capacity for customers.
By means of driving performance, it provides a true sense of strength and dynamism fitted with varied choices of 2.3 L Eco Boost I4, 2.5 L Duratec 25 I4 Petrol, and 2.2 L Duratorq I4 as well as 3.2 L of Duratorq I5 Diesel engine powered by 5-6 speeds manual and 6-10 speeds automatic transmission system. The exclusively priced models are XL, XLT, and LARIAT.
New Ford Ranger is an unbeatable pickup truck ideal for wild off-road all-terrain driving journey experience. It will be going to mark its true presence with increased demand and value among young generation customers impatiently waiting for a comeback of this super luxury urban class pickup truck.
View All Stock of Ford Ranger Pickups