5 Best Selling Pickup Trucks in Thailand
Thailand is a popular country in the world due to its scenic view attractions, beaches, and wellness spa. Over the years, it has also gained a unique reputation for producing best-selling pickup trucks around the world. Pickup Trucks are the new forte for this beautiful country as it has become the largest manufacturer of a wide variety of branded pickup trucks which are ideally famous for their rugged solid aerodynamics design and versatile performance. There has been a rising demand for a double cabin and singleton light-duty pickup trucks among customers in Thailand and other countries of the world for export.

It is of no doubt that Japanese Pickups are still leading the market with their kind of originality and durability but pickups made in Thailand are also capturing the market by their distinct trendy stylish appeal to easily grab the instant noticeable attention of customers. Thai Pickups are light-weight robust design sleek shine iconic pickup trucks which have been specifically built for an exhilarating urban off-road adventure wild drive to show their high esteem and sheer elegance with a powerful cargo loading and towing capacity
We are discussing 5 Best-Selling Pickup Trucks in Thailand.
Toyota Hilux Revo
Toyota Hilux Revo is the top-selling pickup vehicle in Thailand which ranks on the first position in the market due to its extreme demand and value. It has always been a highly successful vehicle with extensive sales record all over the world. It is built with a sturdy rigid exterior design and available with single cabin, double cabin, and extra smart cabin spacious comfortable inside seating for an all-terrain 4WD rough driving journey experience comes with an excellent variety of 2.4 and 2.8 litres of turbocharged diesel fuel engine powered with a 5-speed manual as well as 6-speed automatic CVT speed gear transmission. It provides an excessive payload capacity with open flat low floor cargo bed for ease of luggage.
Nissan Navara
Nissan Navara holds a valuable demand in the domestic Thailand market with a worldwide acceptance among customers. It presently offers a dynamic noticeable impression built with a solid muscular exterior design consisting of the aluminium finish front grille, illuminated under spoiler fog lights, and side view stylish door mirrors. It has an engine capacity of 2.5 litres of gasoline and turbocharged diesel fuel with a 6-speed manual and 7-speed automatic CVT gear transmission system.
It comes with a right-hand 4-wheel drive and equipped with advanced key features like an anti-lock braking system, vehicle dynamic control, hill start assist, hill descent assist, airbags, TFT Screen Display, and active brake limited slip. This is a vibrant and actionable mode 4-door urban pickup truck designed with a dual cabin and huge king cabin comfortable seating system and available with red and black exterior body colour variations.
Ford Ranger
Ford Ranger is a Wildtrak dynamic pickup truck designed with a trendy stylish robust tone and equipped with 3.2 litres engine fuel for a dashing powerful ride experience. It is built with a rugged solid exterior aerodynamic design structure with a cargo payload capacity of 2350 pounds. It comes with 3 different varieties of a single cabin, open cabin, and double cabin with having both 2-wheel and 4-wheel drive specifications. It offers some distinctive utility features of 8-inches touch screen, voice control, sync in-car connectivity system, driver assists technology, lane keeping alert, adaptive cruise control, and the tire pressure monitoring system.
Isuzu D-Max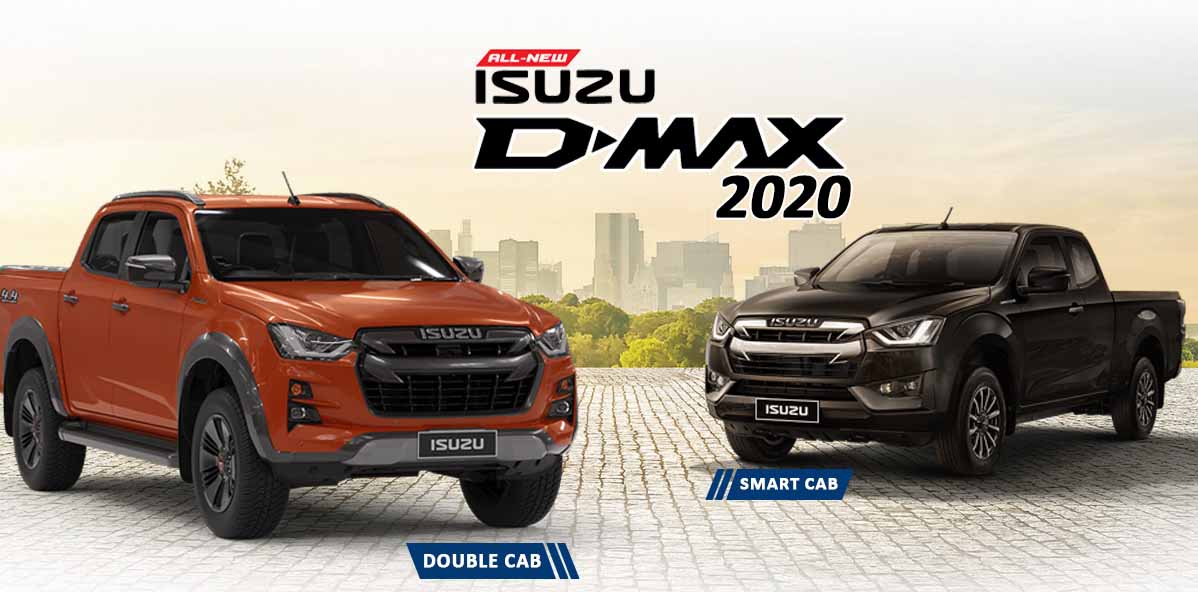 Isuzu D-Max is a compact 4 door right-hand pickup truck built with ultimate perfection and sheer sophistication. It provides 5 seats double cabin capacity with added features of power steering, power mirror, power windows, anti-lock braking system, central locking, and dual airbag system. It is built with a front engine, rear-wheel or a choice of 4-wheel drive layout design structure and offers an engine capacity of 3.0 liters turbo diesel producing its power rising from 177hp to 190hp and torque also rises from 380Nm to 450N with six-speed automatic gear transmission. It is ideal for passenger and cargo loading storage accommodation as well as powerful vehicle towing.
Mitsubishi Triton
Mitsubishi Triton is a fantastically designed compact trendy pickup truck built with an aggressive style and actionable commanding tone for customers. It is a sporty pickup truck offers a valuable solid appeal for customers available with a single cab, double cab, and a mega cabin spacious yet comfortable seating arrangement. It is an ideal pickup truck to provide an extreme level of urban drive adventure to customers with 2.4 litres of fuel engine added with 6-speed automatic CVT Transmission.
All these pickups provide ease of cargo handling and joyous adventure ride for customers who are keen enough for all kinds of daring ride activities.
VIEW ALL STOCK OF PICKUP TRUCKS