Brand New Toyota Land Cruiser Prado 2018 Revealed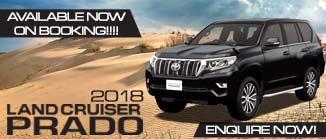 Toyota Land Cruiser Prado holds an unbeaten value among people all over the world since its inception. It always receives a tremendous response from customers who possess an extreme eagerness to have an off-road urban outdoor recreation fun trip with all family and friends.
This robust solid 4-wheel drive sports utility vehicle gets a new redesign shape in every decade with a catchy appearance look.
Brand New Toyota Land Cruiser Prado 2018 has recently been revealed with a stunning noticeable first sight appeal for customers. It has now come up with a rugged style display to show its toughness in a fierce aggressive glare. It has been designed for a masculine drive with a dare and passion to explore the hidden wild adventure. Exterior Design exudes a feeling of confidence and strength with a sleek shine sturdy aerodynamic structure. The larger front crystal LED Headlights are conjoined with horizontal bar metallic emblem grille gives a dashing view appeal for customers added with the front bumper, fog lights, auto electric retractable remote control coloured door mirror, and 19-inches aluminium wheels. On the backside, it displays a stylishly bold catchy attraction combines with rear spoiler brake light, LED Taillights, rear fog lights, rear side bumper, and the wider black transparent rear windscreen. The eye captivating exterior body colours provide a terrific noticeable look for customers such as white pearl crystal shine, silver metallic, grey metallic, black, attitude black mica, brackish swallow tail glass flake, red mica metallic, and avant-garde bronze metallic.
Interior cabin design provides the art of practicality with a perfect blend of comfort and space for passengers. It offers choices of 5-7 seating capacity with easy flexibility and folding down features. There is immense legroom for passengers to find absolute peace and relaxation with layback headrest space. The rear side compartment offers a widely spacious full flat cargo storage loading accommodation attached with a swinging open backdoor.
Front dashboard cockpit panel gives a contemporary exotic fancy look equipped with all modern advanced features including as Optitron meter, high definition 4.5 inches TFT color multi-information LCD display, tire pressure alarm system, tilt angle monitor, 4-wheel traction operation, differential lock operation indication function, tire angle display function, T-connect SD Navigation System, full auto air-conditioner, thermal sheet, seat ventilation function, slide electric moonroof, illuminated entry system, sidestep lighting, foot light, and center console illumination. The 7-inches back guide safety monitor, corner view monitor, blind corner monitor, 9-inches multi-view back guide monitor, and 14 speakers Prado super live sound system are all essential entertainment features.
The driving safety features are added as Toyota Safety Sense P Collision avoidance support package which includes pre-crash safety system automatic brake, millimetre wave radar, monocular camera system, lane departure alert, automatic high beam, radar cruise control with brake control, clearance sonar and back sonar, drive start control, multi-terrain anti-lock braking system and brake assist with electronic brake-force distribution. The vehicle stability control and traction control help driving stability with slippery road detection to avoid skidding. SRS Airbags, pedestrian injury reduction, and shock absorbing structure all safely prevent the vehicle from harmful collision.
It is a 5-door right-hand multi-terrain full-time 4WD SUV which provides a powerful smooth flow of driving on all kinds of sandy, muddy, rock n dirt road conditions. It is fitted with 2.7 litres of gasoline fuel as well as 2.8 litres of clean diesel with an automatic speed transmission. The newly added Torsen LSD (Limited Slip Differential) performs a torque sensing on all centre, rear, and front axles for a dynamic grip on the ground.
The grade price packages are being offered as TZ-G, TX "L PACKAGE", and TX.
VIEW ALL TOYOTA LAND CRUISER PRADO